Soft Coated Wheaten Terrier Puppies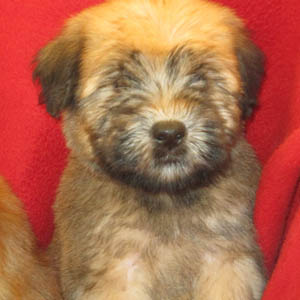 As its name implies, the Soft Coated Wheaten Terrier is prized for its coat, which is soft, silky, with a gentle wave, and of warm wheaten color. Underneath, however, is a formidable dog that leaves no doubt as to his terrier origins. Square and medium-sized, he is happy, steady, self-confident and alert to his surroundings.
Wheatens tend to be less scrappy than other terriers but they are true terriers and will be more active than many other breeds, enjoying plenty of exercise every day. They relate well to children and can adapt to city, country, and suburban life. The Wheaten is single coated and sheds minimally. Wheatens range from 17-9 inches at the shoulder and weigh between 30-40 lbs.
If you are interested in a Soft Coated Wheaten Terrier puppy, please give us a call at (631) 727-3550 or send us an email.