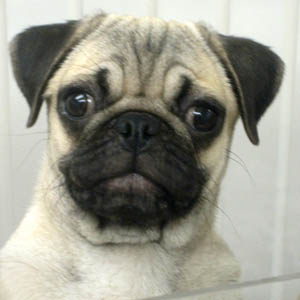 The Pug is well described by the phrase "multum in parvo" which means "a lot of dog in a small space." They are recognized for their even-tempers, playful personalities, and their outgoing, loving dispositions. This square and cobby breed comes in fawn, silver fawn, apricot fawn or black, with a well-defined "mask" on his muzzle.
When Prince William II became the King of England, he owned Pugs and they became the fashionable breed for generations.
The Pug's reason for living is to be near their people and to please them, and their sturdiness makes them a family favorite. They are comfortable in small apartments because they need minimal exercise, but the breed can adapt easily to all situations. The Pug sheds, but its short coat requires little grooming.
If you are interested in a Pug puppy, please give us a call at (631) 727-3550 or send us an email.