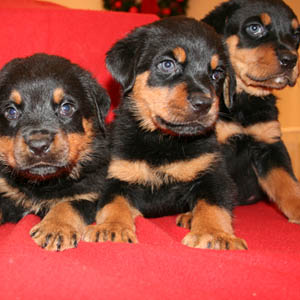 Robust and powerful, the Rottweiler is happiest when given a job to perform. His intelligence, endurance and willingness to work make him suitable as a police dog, herder, service dog, therapy dog, obedience competitor and devoted companion. An inherent protector, the Rottweiler is self-confident and responds quietly and with a wait-and-see attitude to influences in his environment. He must be medium in size and his coat is black with rust to mahogany markings.
Rottweilers love their people and may behave in a clownish manner toward family and friends, but they are also protective of their territory and do not welcome strangers until properly introduced. Obedience training and socialization are musts. Rottweilers must be exercised daily, but require minimal grooming maintenance.
If you are interested in a Rottweiler puppy, please give us a call at (631) 727-3550 or send us an email.