Pembroke Welsh Corgi Puppies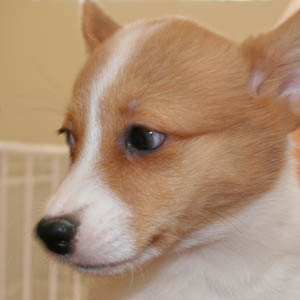 Low-set, strong and sturdily built, the Pembroke Welsh Corgi gives an impression of substance in a small space. He is one of the most agreeable small house dogs, as well as an avid competitor in many dog sports, including conformation, herding and obedience. The Pembroke Corgi is a separate breed from the Cardigan Corgi, possessing a shorter body and straighter, lighter boned legs. His ears are pointed at the tip and stand erect, and he has a short tail. The coat can be red, sable, fawn, black and tan with or without white markings.
Bold and friendly, the Pembroke responds well to training and loves his family, but he may try to herd you! He thrives on farms, but can adapt to a variety of living situations if given regular exercise. This breed also requires routine brushing.
If you are interested in a Pembroke Welsh Corgi puppy, please give us a call at (631) 727-3550 or send us an email.