Labrador Retriever Puppies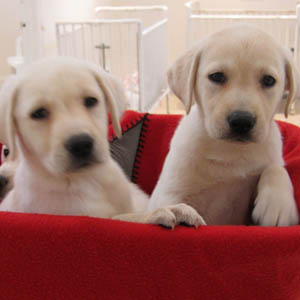 The gentle, intelligent and family-friendly Labrador Retriever from Canada continues to be the most popular breed in the United States. This versatile hunting breed comes in four colors – yellow, black, white, and chocolate – and because of his aptitude to please his master they excel as guide dogs for the blind, as part of search-and-rescue teams or in narcotics detection with law enforcement.
An ideal sporting and family dog, the Labrador Retriever thrives as part of an active family or as a trusted hunting companion. A double-coated breed which sheds seasonally, regular grooming keeps his coat at its water-resistant best. Because of his even temperament and trainability millions of Americans own a Labrador Retriever as a pet.
If you are interested in a Labrador Retriever puppy, please give us a call at (631) 727-3550 or send us an email.